On the 6th of June, 2016, I was going through the Guardian Newspaper, when a particular story caught my attention: " Kids made orphan by mother's death, and father's disappearance". As I took my time to go through the pathetic story, I had an urgent feeling of compassion to reach out to the hapless children. However, the story was reported in an impassive manner, just as a mere news item by the newspaper. I immediately contacted the writer of the story, whose phone number was displayed in the newspaper.
He gave me the contact details of one Mr Emma Eke, a distant kinsman of the kid's late mother, who now takes custody of the kids, since the death of their mother, in 2013.
Today, the Project-Help-a-Child team went to Ijegun-Ikotun, to visit the Eke's Family and the "orphaned kids"The purpose of our visit was to ascertain the authenticity of the story and to also get a piece of first-hand information about the plight of the kids. The Ekes live at NO. 2 Cooperative Avenue, Off Community Rd, Ijegun-Lagos. We got to their home at about 11.30 am, and we were warmly received by Mr Eke and his amiable wife. Without wasting time, Mr Eke gave us a vivid account of the ordeal of the children and how he came about, now taking care of the six kids added to his four biological children. Hear his story:"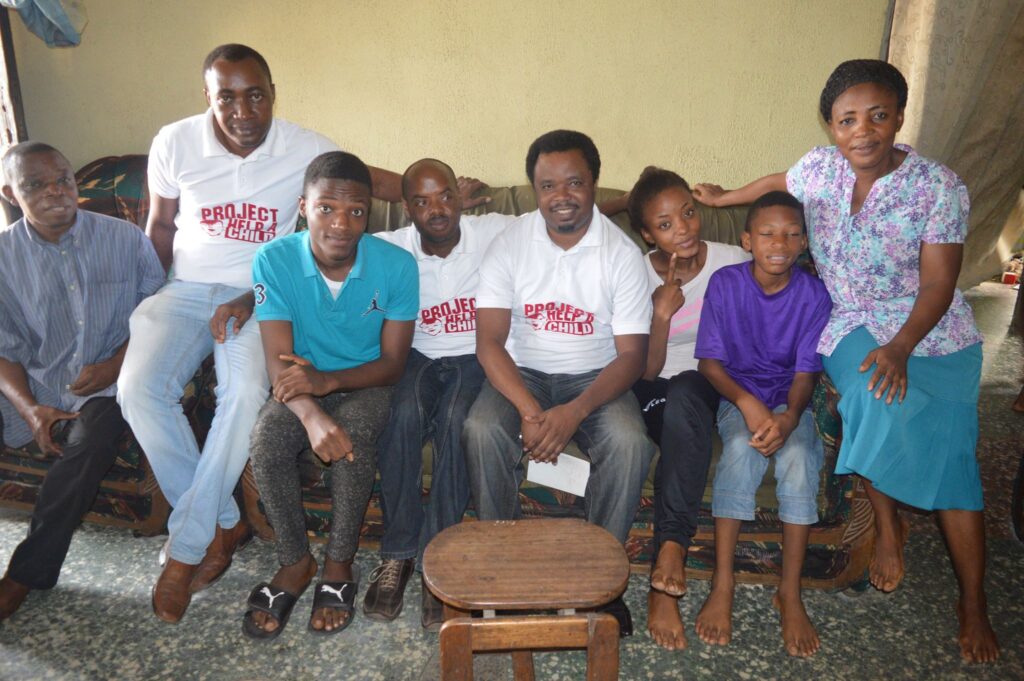 My name is Mr Emma Eke, I hail from Abia state, I am a businessman. The late mother of the six kids came from the same village as me. I got to know her from our village meeting in Lagos, even before she got married.
She was born in Lagos because her parent lived in Lagos for a long time before they retired to the village. When she was about to get married, I stood in for her father. She got married to one Mr Fred Agu about fifteen years ago. They had about four kids before the husband lost his job. Things became difficult for them unknowingly to her, the husband had a lady friend in Badagry with who he had a relationship.
One day, the husband went to work and never returned. He had absconded to join his lady friend in Badagry, leaving behind four kids and a heavily pregnant wife. All effort to bring him back proved abortive. The shock of his sudden disappearance was unbearable to the woman, who was a full-time housewife with no personal means of income. The woman eventually gave birth to a set of twins, making the total number of children six.
I had to mobilize some of the family members to support her during those trying times. We even raised some capital for her to start a petty business. The pain of the husband's disappearance and the burden of raising six kids alone broke her spirit. She developed high blood pressure and eventually died in 2013.
When she died, I played a prominent role during her burial, and because I was close to her, I immediately took the six children home, thinking that after the burial, we would have a meeting with the family to discuss how to cater for the six children she left behind. Yes, we did have a meeting, but I was shocked, that during the meeting, none of the extended family members showed any commitment to take responsibility for any of the kids. I even called the kids' father, whose wife died, but when he heard my voice, he immediately dropped the call.
Ever since, He has not called, not to talk of visiting the kids so my brothers, I have been stuck with the six kids since four years ago when they lost their mother. The extra burden of caring for them and my four kids is huge. Thank God, I have an understanding wife, who has accommodated them all these years. Right now my business is not doing well, a lot of people are owing me.
I was almost dying in silence, and that was why people advised me to go to the Guardian Newspapers, to use their platform to solicit support from the public. Perhaps, God will use people to help me relieve this burden. Oh! I am so happy you are here today. I thought God had forgotten my case. I had gone to my church for support, but they turned their back on me. I am a Catholic, I went to my parish priest, He could not help me. He even referred me to a bigger parish. After narrating my ordeal, I got the reply: ' brother Eke, how are you coping'. that was all. No help came from any of my church members.
Some people had even advised me and my wife to take the children to the village and dump them there. But I could not do that because of the love I have for them. I have come to see them as my children. And I love them dearly. If my business were to be doing well, I would have been able to bear the burden all alone, without crying for help to tell you the truth my brothers, I have given up hope. I thought God is no longer alive because all efforts to get support from people have been largely unsuccessful.
But with your visit today, God has shown that He is still alive…………"The Project-Help-a-Child team consoled with the family, gave them a token for food, with the assurance that through our effort, God will raise kind-hearted individuals to sponsor the children.
Beloved, as you read this pathetic story of these unfortunate kids, I want you to see them as your kids. We want people to sponsor these six kids. Please do not close your heart and think that somebody else will do it. it is YOU that God wants to use.
Let us support Mr Eke to give hope and a future to these beautiful kids.
Yes! on that faithful day God will say to you " I was an orphan, you became my father, you became my mother
"If you are interested in Sponsoring any of the kids, call us on 08084701414, to link you up with Mr Eke. God bless you richly.
Together, we can create a world where no child lives in lack.
Follow us on Instagram @azemoborgregoryfoundation @gazemobor
Kindly Share The Good Works: