Throwback to 2017 During A Compassionate Visit to the family of Late Mr Emma Eke
The bible says "Pure religion and undefiled before God and the Father is this, To visit the fatherless and widows in their affliction, and to keep himself unspotted from the world". James1:27
The Charity City Project team visited the family of late Mr Eke to condole and pray with his bereaved wife and children.
Mr Eke died on the 20th of August 2017 after a brief illness. His death was a great shock to us considering the fact that he was quite hale and hearty.
You would recall Mr Eke, the Good Samaritan who adopted some kids that lost their mother to the cold hands of death. The kids' father, who is still alive, had abandoned them before their mother took ill and died. Mr Eke then took custody of the four kids, since they had no one to cater for them The story of Mr, Eke's charitable deeds were published in the Guardian newspapers in mid-2016.
The Charity City Project team who read about the story, promptly responded to Mr Eke's plea for public support to enable him to cater for the four adopted kids added to his six biological children.
The team then facilitated the sponsorship of two of the kids: Elizabeth and Comfort. My good brother, Mr Austin Iyoha and Pay best Ventures Ltd kindly took up the responsibility of sponsoring the kids.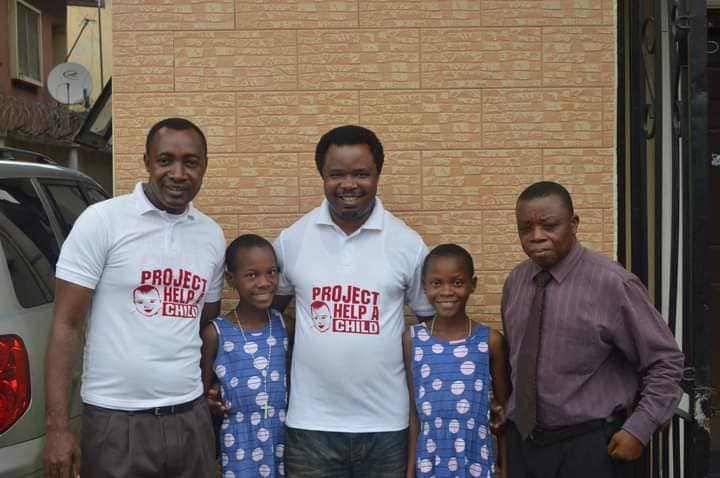 During our visit to his family, we met with his wife, who was pleased to receive us. We condoled and prayed with them after which a presentation of N50,000 cheque donation was made to her as our token of love to support the family during this trying time.
We also made a commitment to continue the sponsorship of the two adopted kids: Elizabeth and Comfort.
Beloved, we are not showing you this to impress you in any way. This is our style of practically preaching the gospel of love and compassion to the world. We want you to be inspired by our noble charity activities so that you too could do likewise.
Follow us on Instagram @gazemobor @azemoborgregoryfoundation
www.vocinternational.com www.azemoborgregoryfoundation.org
Kindly Share The Good Works: