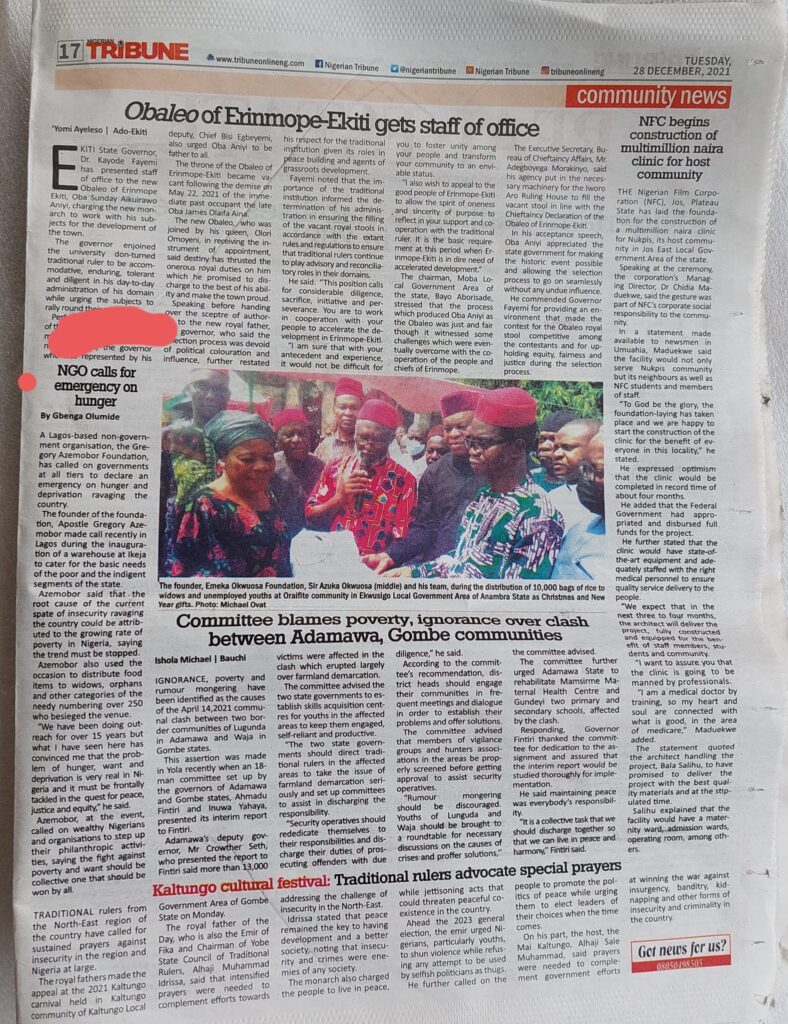 " Declare a state of Emergency on Hunger, Azemobor tells Nigerian Government"
The Nigerian Tribune, 28 December 2012, page 17Excerpt: "A Lagos-based non-governmental organization, the Azemobor Gregory Foundation has opened a warehouse in Ikeja to cater for the basic needs of poor and indigent segments of the state.
At the flag-off ceremonies that took place on Wednesday morning, the founder of the foundation, Apostle Gregory Azemobor called on governments at all tiers to declare an emergency on hunger and deprivation ravaging the country.
According to Azemobor, the root cause of the current spate of insecurity ravaging the country can be attributed to the growing rate of poverty in Nigeria, saying the trend must be stopped.
The businessman turned philanthropist used the occasion to distribute food items to over 250 widows, orphans, and other categories of the needy in the society who besieged the venue.
"I cannot believe what has happened here today, We made provision for 400 households today but you can see the huge crowd that is currently here."Even though we have been doing outreach for over 15 years but what I have seen here has convinced me that the problem of hunger, want and deprivation is very real in Nigeria, It's very much real and it must be frontally tackled in the quest for peace, justice, and equity." He said.
About the new warehouse, Azemobor said the motive for putting it in place was to make it a bank where foods, clothing, and all basic needs will be warehoused for onward distribution to the needy."The idea behind this project is to put in place a warehouse where food items and clothing will be kept before we distribute to the people."
Azemobor used the opportunity provided by the occasion to call on wealthy Nigerians and organizations to step up their philanthropic activities, saying the fight against poverty and want should be a collective one that should be won by all."
TOGETHER WE CAN MAKE THE WORLD A BETTER PLACE TO LIVE IN WITH NO LACK.
Follow us on Instagram @Gazemobor @Azemoborgregoryfoundation