AZEMOBOR GREGORY FOUNDATION- Fate dealt a cruel blow on Mrs Susan Nwanchukwu when in the year 2000, she in the company of her late husband had a fatal motor accident and sadly the husband died at the scene, while she had a broken leg and serious damage to her head which eventually impaired her sight.

Since then, she has been living on the goodwill of his family and church members, The Reverend Father of the Catholic parish where she worships is the one who presently pays her house rent and monthly stipends for her upkeep.

Last year she was a beneficiary of Azemobor Gregory Foundation Christmas free food distribution and seeing her condition, our team was moved with deep compassion, and we, therefore, made a promise to fully empower her this year.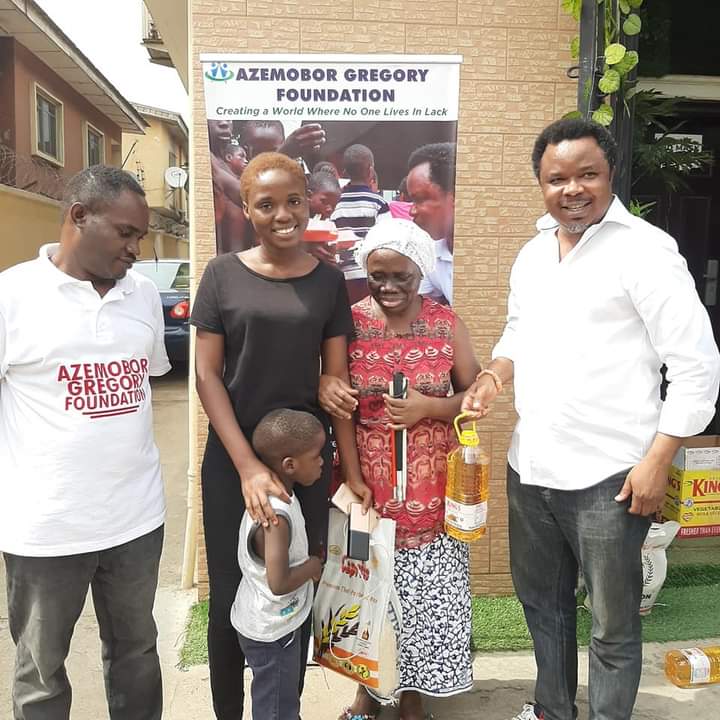 So, last week, our team paid her a compassionate visit to commence the empowerment process. she exhilarated seeing us as she narrates her ordeal to the team.
In her words :
" I've been a widow since the year 2000 after I and my husband were involved in a ghastly motor accident when our car collided with a trailer. I lost my husband to that horrible and traumatic event.
I broke my leg during the accident and my head was affected with severe complications that led to the loss of my sight.
I've been blind for 21 years now.
I started an Ice block business after a good Samaritan gifted me a fridge, I had lots of customers coming to buy but the business stopped after my business tool- the Fridge developed a fault.
Several attempts to carry out repairs on the fridge proved abortive as most of the repairers collected my money without carrying out the repairs (They duped me)
I gave up all hope of re-starting my business again……. "

Beloved, on listening to Mrs Susan narrating her ordeal Azemobor Gregory Foundation team were moved to tears, we made a promise to buy her a new deep freezer next week, so she could re-start her ice block business again
On that same day, the Azemobor Gregory Foundation team went to an electronic store to make enquiries on the price of a deep freezer as seen in the video,
We found a deep freezer that will be ideal for her ice block business. It costs about #165,000.

If you wish to donate to this cause:
Kindly pay to
A/C: 1016940445
Name: Azemobor Gregory Foundation
Bank: Zenith Bank
For sponsorship/ Partnership Call/ Whatsapp 08084701414.

We will whole-heartedly appreciate it if you join us to make life comfortable for Mrs Susan Nwanchuku and put a smile on her face and that of her family.
Together we can make the world a better place.