Mrs Rose, a widow, has a reason to smile.
Join us to lift 10,000 Widows and Indigent mothers out of poverty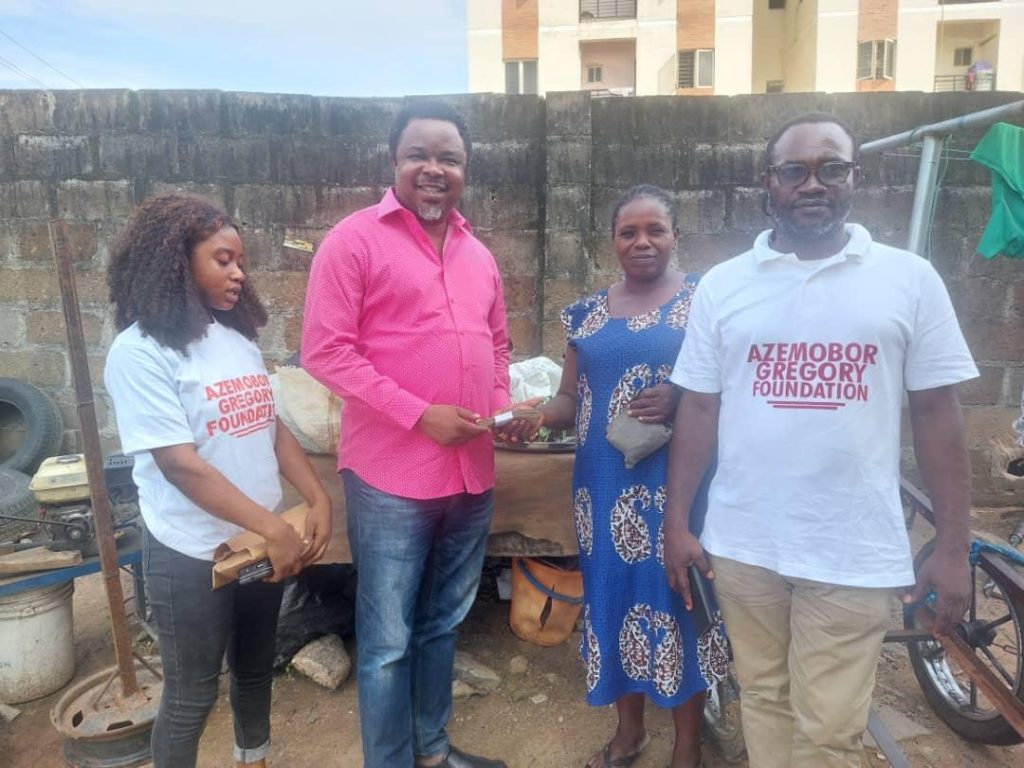 Mrs Rose, a widow, has a reason to smile.
Mrs Rose Agada is a 47-year-old widow and mother of seven children, who lost her husband, a police officer, to an accident on his way to work on the 30th of April 2017.
After the loss of her husband, Mrs Rose also lost the provision store she was managing while her husband was alive, as she couldn't meet the lease agreement.
Losing the shop with no means of livelihood was an unfortunate situation that made her distressed, as there were no other means to take care of herself and her 7 children. 
She had to do menial jobs to save up. 
She was able to raise some money to start up a petty trade.
She resorted to selling vegetables (Ugwu leaf, spinach, and water leaf) in a bid to feed and support the children's education.
Today, the Azemobor Gregory foundation visited her at the barracks and donated the sum of NGN50,000 to boost her petty business.
The hapless widow could not hide her joy as she lavished prayers of thanksgiving on the Azemobor Gregory Foundation and its partners for restoring her hope of expanding her business.
Glory be to God.
We're showing videos and pictures of this charitable activity to create awareness of the plight of hapless widows globally and to also inspire YOU to emulate us by supporting poor widows and indigent mothers around you. Look out for them within your locality and give them a helping hand.
Many thanks to my beloved brother Kenneth Ehiakhamen, who made this empowerment possible with his generous donation to mark his 50th birthday. Happy Birthday, my brother. Thank you for supporting the cause of the poor.
Follow us on Instagram
@Azemoborgregoryfoundation
Follow us on Facebook
@Azemoborgregoryfoundation
@Azemoborgregory