The Pathetic Story of Mr Solomon who Lost his Wife to Breast Cancer "My name is Mr Solomon Sunday Ndukwe. A native of Abia State. I reside in Oshodi.
On 25th June 2014, my life changed forever. My wife travelled down to our village, came back on February 13th 2014. Shortly after she took ill and was taken to the hospital for treatment where it was diagnosed that she had breast cancer.
She was given several medications all to no avail. The doctors later suggested that the solution was to cut off her breast. The family agreed because they thought it was the only solution for her to stay alive. After some time the doctors disagree and referred them to another hospital at Iyana-Ipaja.
Getting to the hospital at Iyana-Ipaja, they couldn't handle their case after several checkups instead they were referred to General Hospital (LASUTH). She was admitted to LASUTH and we were asked to pay the sum of ₦600,000 Naira for surgical operation. While we were sourcing for the money to carry out the operation doctors went on strike, as there were no doctors to attend to her, the sickness was getting severe, we took her to another hospital and nothing was done.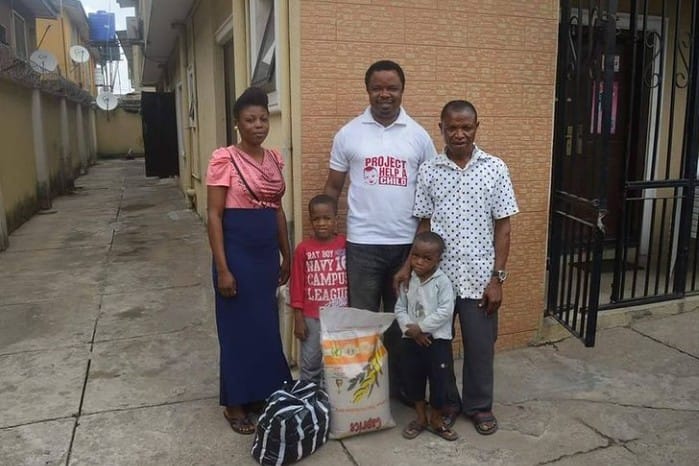 Finally, we brought her back to LASUTH. A few days later she gave up the ghost. She left me with three kids- a girl and two boys. Since then I have been the only one taking care of the children." The bereaved man who works as the petty security personnel is overwhelmed with the challenges of catering for the 3 kids his late wife left behind. His salary of N18,000 can barely feed the family not to talk of meeting the children's educational needs.
Beloved, Mr Solomon needs your support. The children need sponsorship. Let us show some love to a brother who is in pain.
In our own little way of supporting the family, The Project-Help-a-Child team gave half bag of rice and some clothing items to them when they visited our office at Ikeja-Lagos.
Together we can make the world a better place to live in. Follow us on Instagram @azemoborgregoryfoundation @gazemobor www.azemoborgregoryfoundation.orgwww.vocinternational.com