A young widow receives support to boost her petty trade
Join us to lift 10,000 widows and indigent mothers out of poverty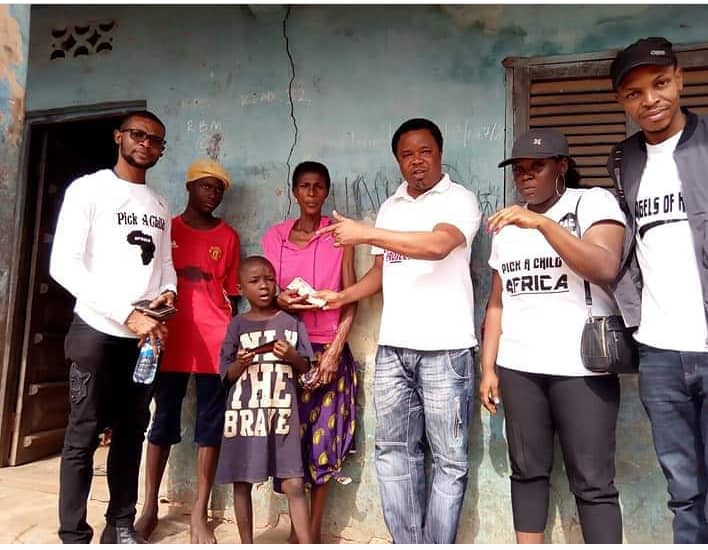 A young widow receives support to boost her petty trade
Mrs Franca Nwaora's late husband was a police officer who died in an auto crash in 2011 while on duty. For almost 8 years now, the police authorities have yet to pay any entitlement to the bereaved widow. There was even a time when a police officer allegedly requested N60,000 from the poor widow to facilitate the processing of the entitlement. I do not know where she expected the poor widow to get that kind of money from. This, to me, is the height of wickedness.
The poor widow who hawks sachet water and drinks in New Benin ran into the team of Project Pick a Child Africa, led by Mr Bright Nnaeto, who ever since has been of great support to the family. The group has currently offered a scholarship to one of her three kids. But the burden of providing for a family of 3 is too much for the poor widow, as the little income she makes from hawking sachet water is not enough to put food on their table. In tears, she narrated that the entire family at times could go hungry for days without food. 
And so it was a great joy to her when the sum of N20,000 was presented to her to enable her to diversify her business by selling tomatoes, peppers, and soup ingredients. According to her, this new line of business is more profitable compared to the sachets of water and drinks she hawks. 
All glory to God! 
Our target is to empower 10,000 widows with free cash grants to enable them to start or boost their petty businesses. The goal of this project is to 
economically empower widows to improve their livelihoods. 
Please note that the videos and pictures of your charitable activities are not intended to impress or show off to anybody, but rather are our practical way of teaching humanity how to love one another. 
Together, we can make the world a better place to live in.
Follow us on Instagram
@Azemoborgregoryfoundation
Facebook
@Azemoborgregoryfoundation
@Azemobor Gregory