WE RAISE BY LIFTING OTHERS
Join us to lift 10,000 Widows and Indigent Mothers out of Poverty.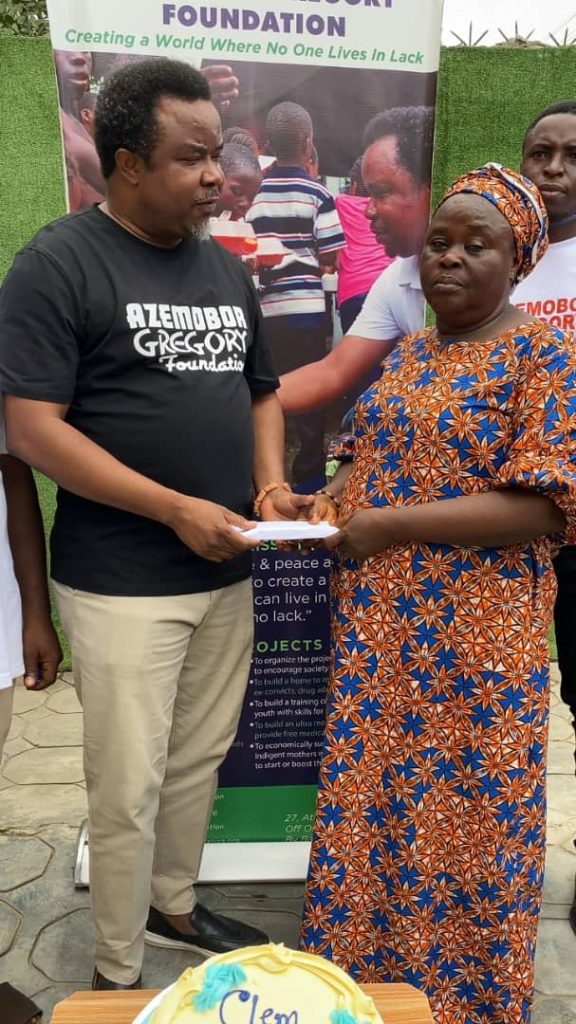 WE RAISE BY LIFTING OTHERS
Mrs Chinyere Godwin is 55 years old widow, from Effum part of Ebonyi state.
"She lost her husband to the cold hand of death in 2015. the husband who died of high blood pressure was a businessman in Lagos. Mrs Chinyere had seven children. with her late husband, and since the death of Mr Godwin, life has been miserable for her. Presently, Mrs Godwin sells cooked food at the bus stop around the mobile Nokia oba axis. She lives with five of her children since the other two are now adults. The workload of this five is like having a full nation in your house for breakfast.
Today when the Azemobor Gregory foundation presented the N50, 000 her, she was elated, exclaiming that it was the first time since the demise of her husband to experience such magnanimity from a total 'stranger'. Tears of joy flowed freely from her eyes while thanking God for remembering her in her moment of affliction and sending 'His angels' to visit her.
Glory be to God
Special thanks to my brother Mr Clem Awelimobor for believing in us and this great partnership to support widows. Happy birthday once again Mr Clem.
God bless the entire team of Azemobor Gregory foundation we appreciate your kind gesture towards the widows.
The cores message of our widow's empowerment project;
Beloved, the only reason why we are showing you the videos and pictures of our charitable activities is to practically teach, demonstrate and inspire you to imbibe the message of love for humanity. As you watch and see us help widows who are in need, please be inspired also to do likewise.
Together we can make the world a better place.
Follow us on Instagram
@Azemoborgregoryfoundation
Follow us on Facebook
@Azemoborgregoryfoundation
@Azemoborgregory