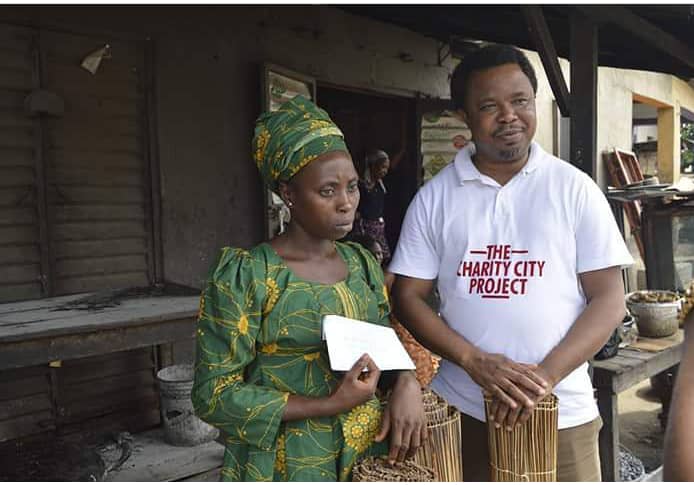 Put on the light for others to see
Join us to lift 10,000 widows and indigent mothers out of poverty
Zechariah 7:10
Do not oppress widows, orphans, foreigners, and the poor. Do not scheme against each other.
Mrs Aminat Ayodele is a 41-year-old widow who lives in the Irewe Riverside area, Ojo Local Government Area, Lagos with her three children. Mrs Ayodele has six children but only lives with her three youngest children while her older three children stay with different relatives, who help to cater for them as she is unable to provide for them all. 
Having lost her husband 4 years ago, Mrs Ayodele does whatever she can to feed the family. She is a very industrious woman who is never jobless as she picks up whatever trade comes her way. Mrs Ayodele explained that before her husband died, she used to process and sell garri (cassava flakes), but with no financial support, she has been unable to continue with that business. 
Mrs Ayodele does, however, go to the riverside to gather crabs, periwinkles, and other sea creatures, which she then sells on land. With the profit she makes, Mrs Ayodele then buys the materials needed for mat weaving to make mats which she sells. She also uses her earnings to purchase coconuts, which are readily available in the riverside area and then goes to land to sell them at higher prices. 
Her willingness and zeal to do whatever she can to feed her family are very commendable, and this is what caught the attention of the charity city project team, who visited Mrs Ayodele to present her with a cash donation. The Charity City Project Team presented Mrs Ayodele with a sum of N15,000 as a start-up fund to help her begin a petty business of her own. 
Mrs Ayodele intends to use the money to buy a large quantity of coconut, which she will resell at a higher rate. She plans to continuously turn over the profits to keep making more gains. 
While presenting the cash donation to her, the international coordinator of the Azemobor Gregory foundation, enjoined her to make judicious use of the money to boost her petty business so she could adequately provide for the family.
Glory be to God.
We're showing videos and pictures of this charitable activity to create awareness of the plight of hapless widows globally and to also inspire YOU to emulate us by supporting poor widows and indigent mothers around you. Look out for them within your locality and give them a helping hand.
Together, we can make the world a better place to live in.
Follow us on Instagram. 
@Azemobor Gregory Foundation  @gazemobor
Follow us on Facebook
@Azemoborgregoryfoundation
@Azemobor Gregory